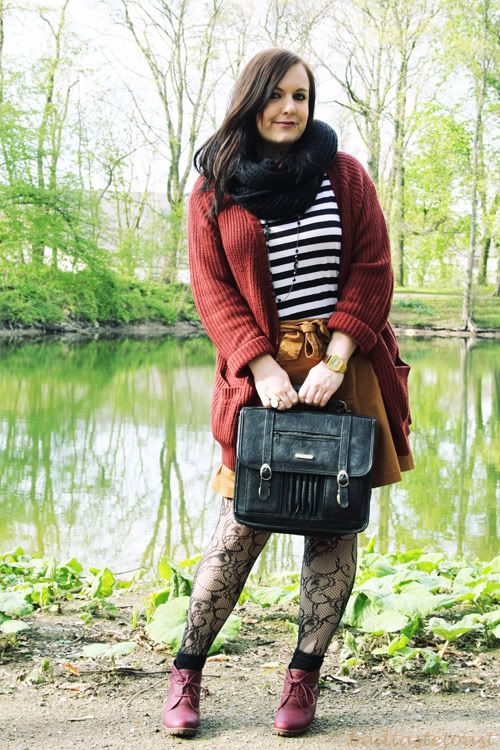 Hello dear Madline Quaint followers!
I'm Carina of Bad Taste Toast and today I'm helping out with a guest post while Madline is (hopefully) enjoying herself on her little holiday.
So, following her last post, Madline asked me what my dream outfit or wardrobe would look like. Tough question, overkill of ideas in my head... I would love to have a huge walk-in closet full of florals, plaid, polkadots... full of colours and cute prints! But I didn't have any idea of how to put all this into one post.
So I remembered a set of outfit wishlists I created some time ago, picked one of them and tried to restyle it with the pieces I own.
This is the outfit (the mentioned wishlist post can be found here):
This is one of the many many outfits I dream of (and although it says "fabulous fall" it also worked in spring). Now about the restyled look:
key piece is the cute skirt that I was able to snatch in the last Pimkie sale. It is the only item of the wishlist I actually bought, so for all the other puzzle pieces I needed replacements. Neither do I own a red blazer, nor do I have a black and white shirt with a slogan on it, so I had to go for a simple striped shirt and the red cardigan. I admit the cardi is not as chic as the blazer, but for the recent crisp spring days it's better because it's a bit warmer.
Next step: golden Casio watch - check. I don't have exactly the same, but a similar one. Next: patterned tights - I replaced the leopard with floral ornaments, and a black scarf - check, got one.
Last but not least the shoes and bag: I have a plain black vintage satchel instead of the b/w Modcloth version, and concerning the shoes I used my deep red wedges as a replacement for the black ones from the wishlist.
Et voilà: a slightly different version of the outfit I wished for had already been in my closet for months, just waiting to be discovered.
// cardigan: H&M // shirt: H&M // skirt: Pimkie // scarf: Gina Tricot // necklace: Accessorize // watch: Casio // bag: Vintage via Ebay // tights: Primark // shoes: no name via Ebay // ring: six //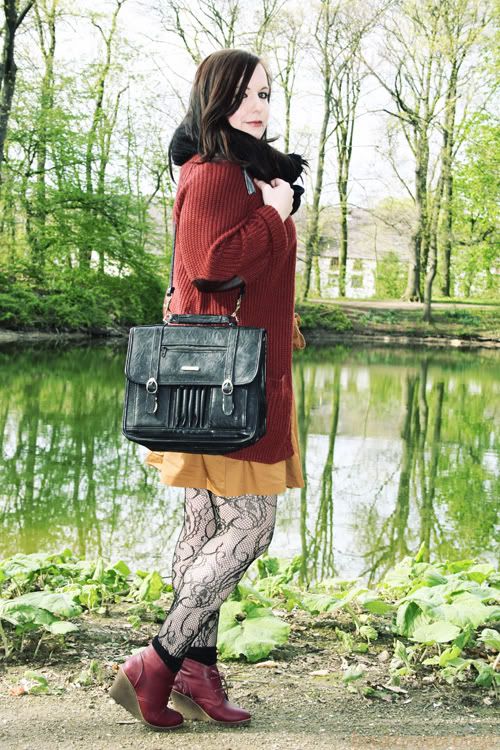 All photos were taken by my lovely boyfriend Patrick during a walk through the little forest nearby where we live. It was sunny but cold spring weather and the wind was blowing through the trees and over the water surface - ah, nice weather to take a walk.
To be honest I felt a little overdressed for the forest in the wedges, but at the same time I felt great in this whole outfit, so I secretly smiled over the stares I got from joggers and promenaders haha. I also have to admit I carried around a warmer jacket in case I would feel cold or uncomfortable - but I did not. ;)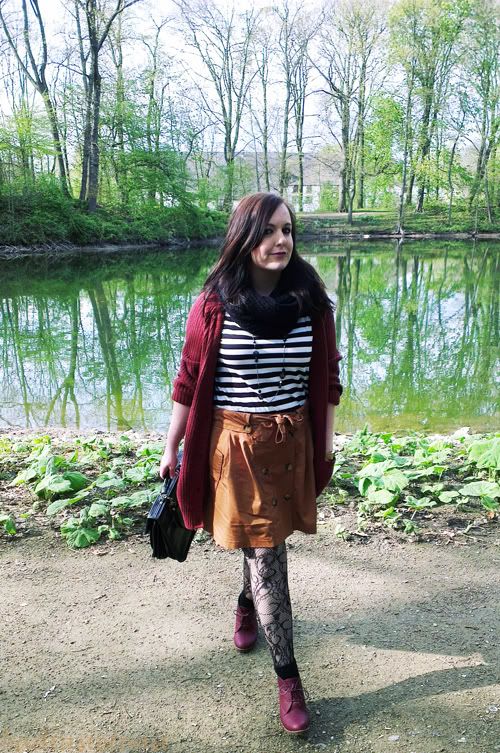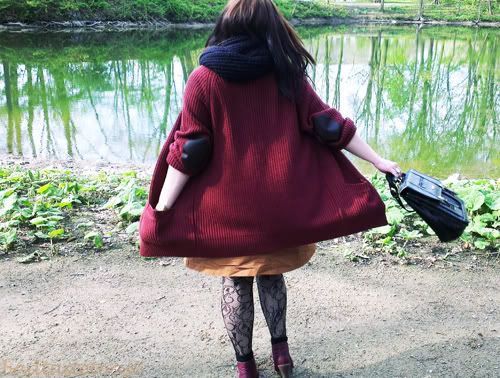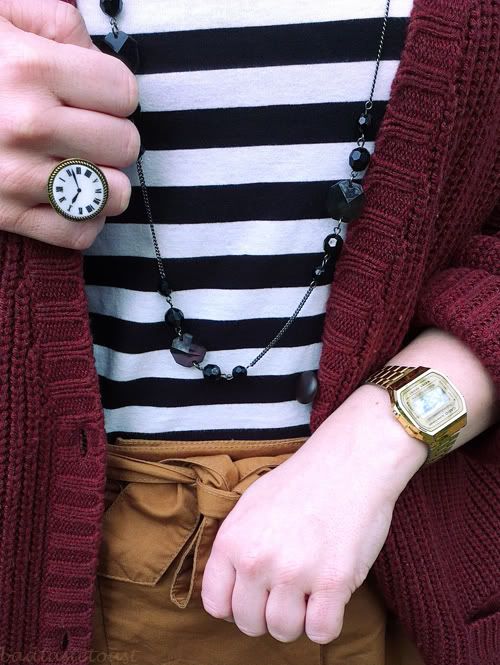 One of my dream outfits on a dream afternoon with the boyfriend, ha could there be anything better?
How do you like the restyled look?
Wishing you a fantastic day everyone!
And thanks again to Madeline for having me as a guest blogger! :)