Hello there, readers of Madeline Quaint! I'm Sarah and some of you may know me from over at
Just Take a Bow
. To help fill her blog with interesting (hopefully) content while she is busy with
real life
, Madeline asked me to talk about a picture that inspires me and then to briefly explain why. I'm not so good at following directions, though, and will write this post loosey-goosey almost-rule-breaking style.
Why?
Because I'm obsessed with the collective works of an artist named Darren Waterston. He is from California (he's practically local for me!) and I first stumbled across his work at the Portland Art Museum (which IS local). Curious after that, I had to check out more and I'm so glad I did.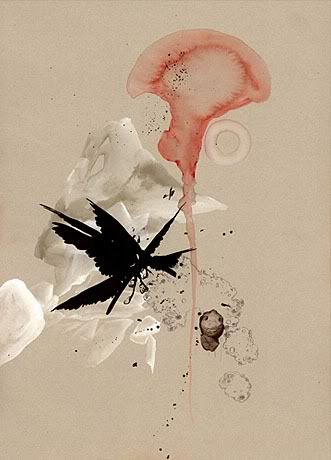 Red Cloud, The Flowering, 2007
I'm drawn to the abstract (duh), but also simultaneous edge and soft present in the works. I think this aesthetic bleeds over into much of my life, to be honest.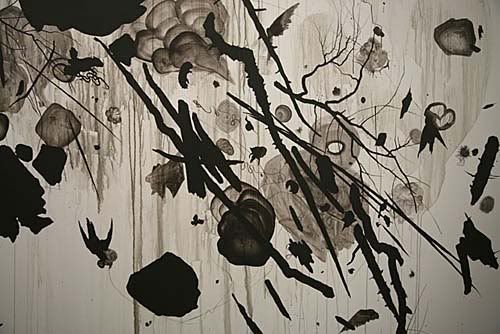 Apocalypse, 2007
If I told you these are the only pieces I love, then I'd be a liar, guys. You should check out
his online portfolio
or just simply google his name (Darren Waterston) because it is easy to get lost in the work. Especially the walk-through pieces he's done, such as
one in San Jose, California
.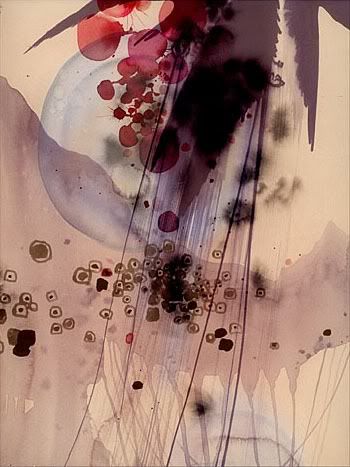 St. Clair, 2008
I find this art particularly inspiring because each piece is kind of like a mini adventure as you try to feel what Waterston was hoping for us to feel. This kind of long quote from Peter Clothier aptly captures the experience of the art:
"
Seductively
, they open up their dizzying spaciousness without the reassurance of a horizon line, nor even the orientation that might be offered by defined spatial relationships between the objects that
mysteriously
inhabit them. Forms and images seem to be given a necessary place, but neither their relative scale nor their
metaphorical
association permits us to tell ourselves a story that would fully explain their presence here. These are
unexplored territories
, whose indigenous life forms are at once as
foreign and familiar
as the images in a dream. To experience them we have to take a lot on faith: we must take the risk of
adventuring
without map or compass."
(Psst... I added the emphasis.)
Night-in-Gal, 2001; Reverberations, 2008
In short, I think what inspires me most about this artist is the idea of the journey in each piece, plus the ruthless combination of color and monochromatic palettes. It frequently feels like he has created a natural scene but the landscape itself is almost supernatural. And, obviously, I'm obsessed with the work.
I hope you liked what you saw. I seriously encourage you go to
check out his site
because there are TONS of amazing things to look at.

Thank you Sarah for this amazing guest post, I've never heard of Darren Waterston before, but I'm definitely looking into his work after I return from England! Absolutely beautiful!
What do you think? :)